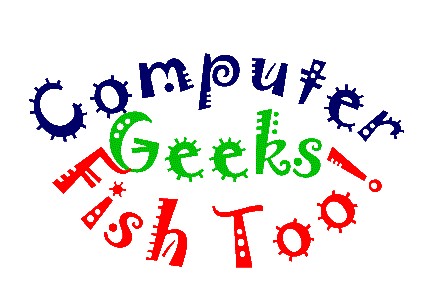 June 6, 2000 - NEC VII
NEC VII Journal Entry. Go to the June Journal for the link. Check it out!
April 16, 2000 - Ridley Creek and More
One great big Journal Entry for this hapless trip. Check it out!
April 8, 2000 - A not too much lately
One great big Journal Entry for April. Still busy!
February 27, 2000 - Lots of Journal Updates
Lots of Journal updates for today. Look in the February Journal to see them all. Also a new photo journal of the return to the Little Lehigh!
February 19, 2000 - Geeks escape from BASEMENT!
Despite the horrible weather Friday I still managed to get out from the basement. Check out the journal entry for the 19th! Go to the February Journal for the link.
February 12, 2000 - Another Shut-In Day!
Well the shack nasties are in full effect! Check out what we do to keep them at bay! See the February Journal!
January 26, 2000 - Fly Fish Digest 2000 Digital Calendar (Series II)
Well, due to a good number of contributions that continue to pour in I started series II. You'll notice that the text is cleaner in this version. (Who says old dog's can't learn new tricks... Actually who called me an old dog?!?) Have a look... Click on the Link for the FF@ Calendar and you'll see the link to Series II on the menu bar...
January 20, 2000 - Fly Fish Digest 2000 Digital Calendar
First pages of the FF@ Calendar are available. I will post others as I complete them.
I hope everyone likes them. Please do drop me a line to let me know either way so I can continue to improve the layout and work.
January 14, 2000 - The Geek Streamlines the site
I hope you all notice the difference. First off the pages should load much quicker. I fixed the bloated menus and I am slowly making my way with the menu changes across the site. Once I finish this here I am off to the other sites I maintain to do the same.
I also fixed the link to the "Off Shore" segment of the site. I forgot to point it to the actual pages. It should be working now.
January 1, 2000 - Century's first trip!
Wow! What a first trip! I hope the other trips of this year work out much more smoothly! Read all about it on this trip report!
December 30, 1999 - Last Trip of the Millennium!
Come read about the last trip of the millennium!
December 23, 1999 - GEEKS Build BOATS!
Alright! The lack of fishing and the chill is affecting me. I finally built that boat I was talking about. Read all about it! You can find the Link in the new Boat Building Link.
December 17, 1999 - A New Series of Flies
Hi! Check out the new flies in the Fly Fishing section! Mike Flies 3 is some of the latest I've tied. The foam ants also look very promising! HEY WHEN IS SPRING!
December 15, 1999 - Finally! The pond is revealed!
Come one, come all! Have a look at the much fished (at least by me) pond!
December 9, 1999 - Mike's Flies Series 2
Check out the new flies I've tied recently.
November 20, 1999 - Coverage of the International Fly Tying Convention
Here's a brief review of my day at the show.
November 15, 1999 - Fly Photos
Check out the new photo's of Flies I've been tying!
October 29, 1999 - Long Beach Island Stripers!
The saltwater drought is finally over! READ all about it in the Journal or the Surf Fishing Section under Long Beach Isle!
October 24, 1999 - Corson's Inlet Fishing
Latest escapades can be found on the Surf Fishing Section under Corson's Inlet.
October 19, 1999 - Last Gasps of Summer
Read all about it in the latest Journal Entry. Looks like we're going for some surf next weekend. Maybe Saturday... We'll see as the week passes. We'll firm up the plans and I'll add more details later.
October 13, 1999 - Bridge Pass Expires
Heck I always like to start the day with a noteable event. I have to buy a new bridge pass tomorrow. I suppose that doesn't mean too much to many of you reading this but it's memorable to me. After all I now have to spend $25.25 tomorrow morning to get a new pass that will allow me to cross on the DRPA (Delaware River Port Authority) bridges at a discounted rate. This pass lasts me for 31 days and then needs to be renewed. Heck I shouldn't complain... It would normally be $2.00 everyday to cross!
The vexing thing is thinking about what I could buy with that money... That's a whole new saddle for fly tying, or maybe a bunch of new hook varieties... Or maybe some more fly tying gear... Or there's that fly vest on sale at Dicks! Ugh... I can feel my ulcer act up when I think about it... I need to fish again.
Actually I went out last night. I tried out the whole new $5.00 waders I got at WalMart! My old hip waders boots were a little too tight and they were causing me foot cramps. The new waders are simply rubberized cloth with stocking feet. I just slip on a pair of ol runners and they worked fine last night! I also bought a couple of packages of poppers and tried them for the first time. Kinda like casting sinking flies but not as bad. The doggone things just drop so quick on the back cast that I have trouble keeping it from snagging the tall weeds and small trees!
Oh, I fished at New Brooklyn Lake last night. This is kinda unique and once I get a bunch of snap shots of it next trip out I will post to a "Venues" section fof this site. (Um, for my American friends that is like a kinda French word for location or site). This place is kinda unique as the lake is not wide open. There is a whole bunch of vegetation that has grown ontop of the weeds and is suspended on them making a sort of carpet. This is really neat as when you wade out through the weed you can actually feel the "ground" sink. It takes some patience and care to get out to a good spot to cast from but it's definitely cool! Everytime I do this it's kinda like being on a fishing show and all <GRIN>.
So back to the waders... While wading out this particular time I stepped on a non too solid section of the "sargasso" and my foot went straight through! I sank to the crotch and my foot was dangling beneath the weed floor! I carefully worked my way out of it and was much more wary after that. The waders held out well considering the great number of "pokey" weeds and branches I had to get through. The runners I wore also weathered well and seem none the worse for wear. I'll have to power wash them once in a while to get the crusted grimies off though. Next year I plan on getting a set of Neoprene waders from the Remington/Zebco outlet in Lancaster, PA. Then I need to figure out what I slip over those to keep from wearing through the feet of those. Any thoughts?
Actually those waders would also be quite good for the surf as well. I've seen Remington waders for $65 dollars and WalMart and I have no idea what I should look for and watch. Any suggestions would be greatly appreciated and can be posted to the message board for fly fishing under the Waders category.
Anyways, onto the rest of that adventure. I didn't get out there until around 5:00 so the sun was just starting to set. I go to casting the fist popper which was a smaller bug on a size 4 hook I think. It was not making too much "noise" so I switched to a larger one and that worked like a dandy making the requisite ripples and such. I cast it around the weeds and where I saw large wakes under the water but to no effect. After some perserverance and a lot of snags on the back cast I switched to standard flies. I caught some aggressive Blue Gills on that but that's about all. Mr. Bass was being tempermental. I did observe, however, that the water was quite cool. (Those waders are definitely NOT insulated and I wore shorts underneath! Brrrrr!)
After returning home and having a VERY NICE BBQ Steak supper I kicked back and dove into the fishing magazine I had just bought. Right in the section about how to catch large bass with streamers it says something about Bass not rising for poppers in cooler temperatures (DOH!). Why didn't I read this BEFORE I went out... (Sigh) So now I have to learn to tie and find some materials for some streamers! (Down the garden path goes young Michael with nary a speck of comprehension!)
Well that will have to wait for the next time. I also ran out of tippet material and I have to buy more. I think I will look for that kit that has three rolls all attached next time. I was using a 3x and that snapped as soon as I snagged a blade of grass! (Well it seemed like it to me!!)
That's all for this entry. The score this trip was two Small Bluegills at around 5 and 6 inches. Hopefully we'll do better next trip!
October 7, 1999 - The Premier Posting!
Welcome to the premier posting of the CGFT! (Computer Geeks Fish Too!) site. This site is dedicated to fishing exploits of the members of the IT (Information Technologies) field. You may know us as that strange fellow who crawls under your desk with no interest in other than to see what may have come unplugged on your computer! You also know us as those people who send the annoying e-mails about shutting the network down just when that deadline for the project gets announced.
Well as much as we enjoy those little activities we do need somthing more substantial than that! Hence for this group of "Advanced Age" IT professionals the other activites favored by our younger bretheren seem much too mundane. After all once you fall out of a perfectly good airplane you've simply proved that you lack common sense. Then there are those who like to test the elasticity of compund polymers by leaping from tall structures only to be violently jerked upwards (hopefully!) by the object they are testing. So with these rather dubious past times we chose a more sublime yet simulating one: FISHING!
We generally started out fishing from work and it re-kindled my love of the activity which I had from a very young age. That and my love of all things techie like. I remember being hooked on Outdoor Life magazines from a very tender age. I lost my drive to fish when I started working and the college social life then my own family ate time. Now I am finding more and more time to return to this pursuit and to enjoy the old gifts that this wonderful past time gives.
I am also learning a whole bunch of new fishing techniques denied to me from when I was a youngster. I grew up in Calgary, Alberta, Canada and this is a world class site for trout fishermen. The Bow River is one of the worlds best places for trout fishing. With plentiful native stocks of Rainbows, Cut Throat, and Brook Trout Alberta's streams are a fantastic place for fly fishermen. The thing was that I was not a fly fisherman back then. I was of the chuck and wait variety. Also a dabbler in lures but this was mainly for lake fishing with more aggressive fish like walleye and northern pike. In the rivers it was all mainly trout and whitefish. Then in the Red Deer River near Drumheller there was a good supply of goldeye. This is a fantastic fish when smoked. I know one of my favorite breakfasts was smoked goldeye and eggs!
Thus when my career took me to the east coast far away from family and life-long friends I turned back to a hobby that I had enjoyed as a child. Being so near the water was just too strong of a pull! Then I also got to finally learn how to use my Fly Fishing rod and reel that I had had since I was in my teens! I also got to lear about Surf and Jetty Fishing. The Big Salty is still very mysterious and hold a lot of adventure and excitement for me and I look forward to exploring it more as time passes. The only thing I have yet to try is off of a boat on the big salty! I will try to remedy this soon and I'll definitely post pictures!
This site will primarily chronicle my fishing exploits and lessons I learn for the benefit of all that are interested. I also hope to document stories and photos of other souls I meet during my fish chasing adventures. You'll see a good number of them already as I start out this little journal and log book. Eventually I'll add message boards and other techie stuff but the main purpose will always be to share the joy I have of this sport with others. I welcome contributions and suggestions from all that would care to volunteer them.
With that said; Let's get to the rest of the site!
Tight Lines and Dry Bottoms!
Michael Eraņa
This IFR site is hosted by - Michael Eraņa.
[ Down Stream - Up Stream - Random Strike - Tackle Box - Search]